We inaugurate the new programme "let the chef speak", the invaluable cooperation with the top chef Serena D'Alesio. In every article, Serena will speak to us about a typical dish with the same passion and creativity that she dedicates to each of her creations. An all 'Made in Marche excellency'.
Let's meet and get to know her better:
---
Serena D'Alesio, 38, is the daughter of, as she herself fondly defines them, 'unruly and avant-garde' restaurant owners and mother of a 6 year old boy, Davide.
Serena launched a YouTube channel 'Gourmet for you' a few weeks ago, which has become mainstream on all principal social media apps, where she, in her typically self-confident and lively way, uncovers the secrets of how a real chef is able to create unique, repeatable and delicious dishes using very simple basic ingredients , always paying attention to those that can be obtained from the local area not far 'from home'.
Serena, what gave rise to this new idea?
It came from my desire to share with everyone what I know and what I have learnt. This project was conceived during the months when I, like many, stayed at home. I not only do it my way, but I also try to entertain those that follow my recipes; because cooking for me means happiness.
Where do the recipes that you propose start from?
They start from what can be obtained from supermarkets. From simple ingredients which together transform a "standard " dish into a 'special ' , repeatable and tasty one . A "Gourmet my style" which then becomes a 'gourmet especially for you'.
What does 0 Km mean to you?
It means giving an add-value to those products that can be obtained in the local area near your home, those that make our land so unique; at the same time always looking a little further too , so as not to lose sight of 'togetherness', in order to keep 'searching in the home' yet allowing ourselves to be inspired by what lies outside our home. In this blend of flavours often, lies the key to all the memorable dishes. Just as it is in the enhancement of products that come from our area: the key to being unique.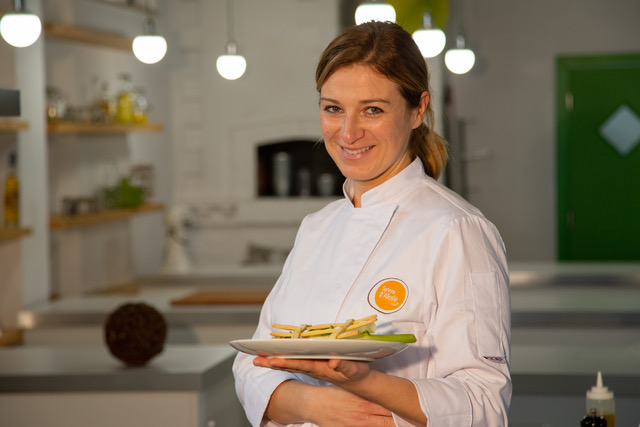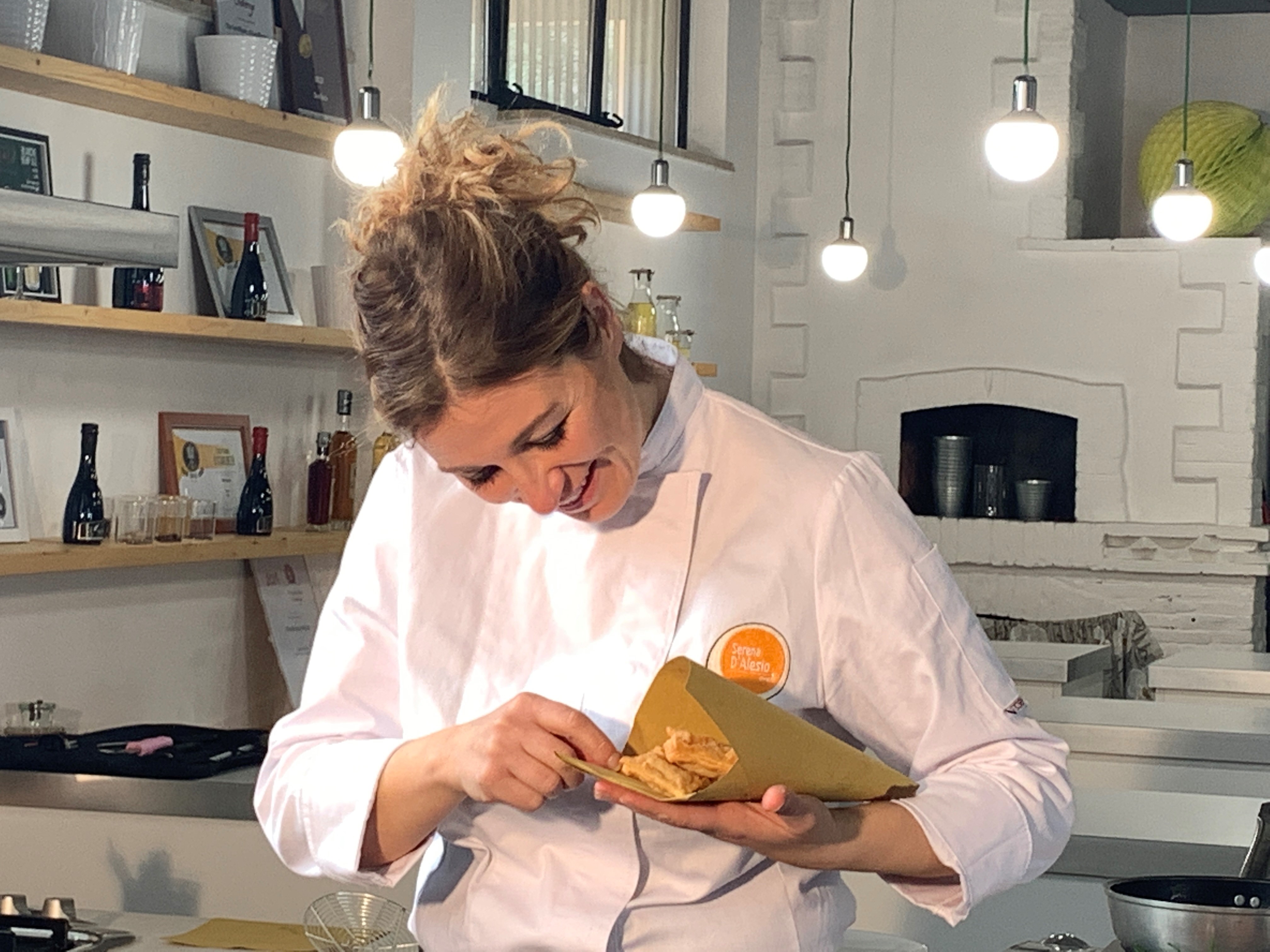 What do you usually do when you have to come up with some sort of recipe and when you cook ?
Whenever I come up with a new recipe, I don't conceive it handling pots and primary ingredients but rather it is first conceived in my mind and for this I need absolute silence and possibly I need to be alone. Then when it comes to the preparation of the dish, the volume of the music can be turned up and from then on it's all fun!
Your parents have given add-value to the local cuisine thanks to Relais Marchese del Grillo, which has over time become a benchmark as regard to the catering sector in the area. What have you learnt from your parents?
My parents taught my brother and I to cut our teeth and work our way up the ladder! I started just as everyone did: peeling potatoes. They taught me to be humble and to be persevering. This allowed me to alternate my work experience in the family-restaurant with extraordinary experiences outside Italy, which has instilled in me a different vision on work that is all the more stimulating.
Which of all these experiences do you recall in particular?
Cooperating with starred restaurant owners at Vinitaly as head-sommelier. But also my first internship at the only existing cooking school in those years, l'Etoile, where I met my mentors Luca Montersino and Stefano Laghi.
When did you go back "home"?
My "apprenticeship" was long. From 2000 to 2008, I and my brother managed a mountain-lodge in the heart of the Sibillini mountains during the summer and winter season, a building structure equipped with a hotel, restaurant and coffee-bar. At the restaurant we even reached up to 230 laid covers offering menu à la carte, at the coffee-bar up to 500 sandwiches in addition to offering 'caffetteria' services and all that that entails on busy days. I did a brief internship at 'Da Caino' where I met the great two-starred Michelin chef Valeria Piccini, and I spent 6 months as executive chef in London, at boutique hotel Xenia. It was that moment then that I returned home, to my number one teacher: my mum. I took the reins in the kitchen of the family restaurant and contributed, I think, to its success thanks to my cuisine. The type that flows in my veins which is not creative, it's not fusion and it's not redundant. It's all mine, it's my way of expressing myself: who I am and what I would like to do for others.
---
Your motto?
There is always abundance in the kitchen
---
Who is Serena today?
Serena is all that I have done, because I am the one to be in the kitchen. An extrovert, that adores challenges always on the look out for new stimulations and – even though I am more cooperative than competitive –satisfied of myself for having mastered the TV programme 'Chopped' or for having reached the semi-finals in Cuochi d'Italia in 2018, or for having cooked in the TV programme Geo&Geo, which dedicated three instalments to my region. Or even as far as participating as a speaker at the annual cooking conference "Meet In Cucina Marche".
Becoming the mother of a splendid little boy who now is 6, I've learnt to overcome and manage the difficulties involved in reconciling ambition and work, discovering new stimulations such as offering my experience to managing family-owned restaurants. Going back to training myself both in the kitchen where you never stop learning as well as growing personally.
Which is your cooking style?
The type that flows in my veins which is not creative, it's not fusion and it's not redundant. It's all mine, it's my way of expressing myself: who I am and what I would like to do for others.

YouTube: Serena D'Alesio chef
Facebook: https://www.facebook.com/gourmetperte
Instagram: https://www.instagram.com/serenadalesiochef/